Raise a Floppa - The Loop
Play Sound
This article is in need of more information.
A list of cast members and a summary
More information or suggestions about the issue might be found in a section of the talk page.
---
PLEASE NOTE:

THE FOLLOWING INFORMATION IS ABOUT MATERIAL THAT WAS NOT LOCALIZED OR DUBBED OUTSIDE OF JAPAN OR OTHER COUNTRY, AND USES THE ORIGINAL TERMS AND NAMES.
---
Rockman.EXE Beast+ (ロックマンエグゼ BEAST+(ビーストプラス), Rokkuman Eguze Bīsuto Purasu) is the fifth and final season of the Rockman.EXE anime series, following Rockman.EXE Beast. While not containing a particularly focused story arc, it contains story elements from Rockman EXE6, Rockman.EXE Transmission, and Rockman.EXE Phantom of Network. It was immediately followed the week after by the successor series of the EXE anime, Shooting Star Rockman.
History
Rockman.EXE Beast+ was part of TV Tokyo's Oha Coliseum program block, alongside the Saru Get You anime, Saru Get You ~On Air~. Unlike the seasons before it, Beast+ episodes are only roughly 10 minutes long and have no formal intro or outro. Instead, there is a brief credits sequence to the Cross Fusion theme before the show's logo and each episode simply ends with a fade-out.
This series marks a major change with the character designs, as Mitsuru Ishihara passes the role to Shingo Adachi, who later does the designs for the Shooting Star Rockman anime. The detailed and realistic proportions of characters changed into a more youthful and simplified look. The design change-up affected Yaito Ayanokoji the most, as she lost her growth spurt from Axess and reverted back to her first season height.
With the conclusion of Beast+, the only Rockman.EXE game released at the time that had no content adapted for the anime was Rockman.EXE Battle Chip GP.
Plot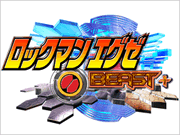 Beast+ follows Netto Hikari and Rockman after the events of Beast. Having mastered the power of Beast Out, the two fight against the likes of the Professor and his mysterious accomplice the Zero Virus, Chirol and Captain Kurohige, two criminals aspiring to learn how to cross fuse with BubbleMan, and finally Cache.
Characters
Main Cast
Supporting Cast
Antagonists
The Professor
BubbleMan and the Beyondardians
Phantom Blues

Phantom MetalMan

Phantom ThunderMan

Phantom Rockman

Phantom SearchMan
Other antagonists
Episodes
No.
Title translation
Original airdate[1]
1
The Name is Zero
(

その名はゼロ

Sono na wa Zero

)
April 8, 2006
2
Zero Virus
(

(ゼロウイルス

Zero uirusu

)
April 15, 2006
3
Zero Invasion
(

ゼロ侵入

Zero shinnyū

)
April 22, 2006
4
Sushi Factory Trap
(

お寿司工場の罠

Osushi kōjō no wana

)
April 29, 2006
5
Zero's True Character
(

ゼロの正体

Zero no shōtai

)
May 6, 2006
6
Super Cyber Beast Again!
(

超電脳獣 再び!

Chō dennōjū futatabi!

)
May 13, 2006
7
The Demon Deko de a~ru
(

デーモン・デコなのであ〜る

Dēmon Deko nano de a~ru

)
May 20, 2006
8
Big Things are Good Things Puku!
(

大きいことはいいことだプク!

Ōkii koto wa ii koto da puku!

)
May 27, 2006
9
Wishing Upon an Empty Can
(

空き缶に願いを

Akikan no negai o

)
June 3, 2006
10
Cross Fusion de a~ru
(

クロスフュージョンであ〜る

Kurosu fyūjon de a~ru

)
June 10, 2006
11
The Elecitel Family Situation
(

エレキテル家の事情

Erekiteru-ke no jijō

)
June 17, 2006
12
Electric-Shock Exploration Party!
(

電撃探検隊!

Dengeki tankentai!

)
June 24, 2006
13
The Hole-Digging Rascals Have Come!
(

穴堀り野郎がやってきた!

Anahori yarō ga yattekita!

)
July 1, 2006
14
Rampaging Metall
(

暴走メットール

Bōsō Mettōru

)
July 8, 2006
15
Mini Mini Typhoon
(

ミニミニタイフーン

Mini mini taifūn

)
July 15, 2006
16
The Keeper of Law
(

法の番人

Hō no bannin

)
July 22, 2006
17
Virus with a Heart
(

心あるウイルス

Kokoro aru uirusu

)
July 29, 2006
18
Zero's Spirit
(

ゼロの魂

Zero no tamashii

)
August 5, 2006
19
I Want Limited Goods Puku
(

限定品ほしいプク

Genteihin hoshii puku

)
August 12, 2006
20
IceMan the Strongest
(

最強アイスマン

Saikyō Aisuman

)
August 19, 2006
21
Magician from the Darkness
(

闇からのマジシャン

Yami kara no majishan

)
August 26, 2006
22
Substantiating Phantoms
(

実体化する幽霊

Jittaika suru yūrei

)
September 2, 2006
23
JammingMan
(

ジャミングマン

Jaminguman

)
September 9, 2006
24
Cache
(

キャッシュ

Kyasshu

)
September 16, 2006
25
Searching for Tomorrow
(

明日をさがして

Ashita o sagashite

)
September 23, 2006
26
Netto + Rockman
(

熱斗+ロックマン

Netto purasu Rokkuman

)
September 30, 2006
DVD releases
Gallery
External links
References