Fire Emblem Warriors: Three Hopes - The Loop
Play Sound
This article is in need of more information.
A more complete summary and the cast members
More information or suggestions about the issue might be found in a section of the talk page.
---
PLEASE NOTE:

THE FOLLOWING INFORMATION IS ABOUT MATERIAL THAT WAS NOT LOCALIZED OR DUBBED OUTSIDE OF JAPAN OR OTHER COUNTRY, AND USES THE ORIGINAL TERMS AND NAMES.
---
Rockman.EXE Stream (ロックマンエグゼ Stream(ストリーム), Rokkuman Eguze Sutorīmu) is the third season of the Rockman.EXE of the anime series following Rockman.EXE Axess. The series includes story elements from Rockman EXE3, 4, 5 and Rockman.EXE Transmission, but largely deviates into its own story.
The film Rockman.EXE: Hikari to Yami no Program takes place within Stream's story, occurring between episodes episode 22 and 29.
Plot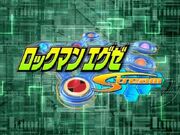 Stream takes place a few months after Axess. Duo's comet has been sighted passing over Earth and people are trying to figure out it's significance. While stuck in traffic, Netto Hikari and his friends are attacked by giant viruses. Netto and Enzan Ijuin use Cross Fusion to fight it off. Then Rockman is kidnapped by Forte and he tries to steal his Ultimate Program. However Blues arrives and fights him off. Later while fighting more giant viruses, they are brought to Duo's comet where he proclaims that he will destroy the Earth because it is filled with evil. However, Cross Fusion intrigues him and he decides to allow Earth one more chance to live. Forte is banished to the Undernet by Slur and the Neo WWW is formed. Netto and Enzan gained the Crest of Duo and a new battle is about to start.
In most of this series, characters face various situations, in which they usually ultimately cross fuse with their NetNavis to solve them. Most of the characters who can use Cross Fusion receive a Synchro Chip from Dr. Hikari and Meijin, although Yuriko Ozono makes a reappearance with her own Synchro Chip given to her by Dr. Wily, and Barrel (from the past), the last characters to join the team, also receives a Synchro Chip from Wily that seems to look slightly different. Most of the characters in this series who can use Cross Fusion also receive the Crest of Duo, but they do not actually see Duo as Netto and Enzan do, and a few times Netto explains what they are. These characters ultimately join to become the Cross Fusion team. Later on in one episode, many characters from the team get together to explore some ruins that are barred by a natural Dimensional Area, and while inside they use their Crests to protect themselves from unusual entities bearing the crest.
Many antagonist Navis from Axess also reappear in this series, but most were created by Duo. These Navis are usually bestowed upon ordinary humans with normal Navis by Slur. Dr. Regal also makes a return from his appearance in Axess, and Dark Rockman also appears as a major antagonist and a recurring threat to the heroes. In this series, Dark Rockman had his own origin story (revealed in the episode Battle of One Without Bonds), and was created by Dr. Regal to be a clone of Netto's NetNavi, Rockman, contrary to his appearances from the games. After a long battle with Rockman, the clone is stabbed through the chest by Slur, who then tries to delete the others next. However, Dark Rockman activates his Battle Chip Salamander as a last resort, and allows Rockman, Blues, and SearchMan to escape while he sacrifices himself to delete Slur. What's left of his data combines with Rockman.
Characters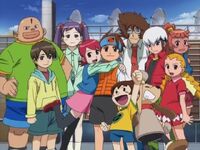 Main Cast
Minor and Supporting characters
Antagonists
Neo WWW
List of episodes
#
Title
Original airdate
1
Duo
(デューオ Dyūo)
October 2, 2004
2
Earth Erasure
(地球抹殺 Chikyū Massatsu)
October 9, 2004
3
Threat of the Asteroid
(アステロイドの脅威 Asuteroido no Kyōi)
October 16, 2004
4
Salad Memorial Day!?
(サラダ記念日!? Sarada Kinenbi!?)
October 23, 2004
5
Fly the Skies Flirty Rascal!
(空飛ぶナンパ野郎! Soratobu Nanpa Yarō!)
October 30, 2004
6
Stone Panic!
(ストーンパニック! Sutōn Panikku!)
November 6, 2004
7
Navi Car Race!
(ナビカーレース! Nabi Kā Rēsu!)
November 13, 2004
8
Calling on Colonel!
(カーネル参上! Kāneru Sanjō!)
November 20, 2004
9
Revival! Neo WWW
(復活! ネオWWW Fukkatsu! Neo Wārudo Surī)
November 27, 2004
10
Rhapsody in Pink
(ラプソディ イン ピンク Rapusodi in Pinku)
December 4, 2004
11
Concrete Jungle
(コンクリートジャングル Konkurīto Janguru)
December 11, 2004
12
Jyawaii Curry and Tomahawk
(ジャワイカレーとトマホーク Jawai Karē to Tomahōku)
December 18, 2004
13
Jasmine
(ジャスミン Jasumin)
December 25, 2004
14
Bubble GoGoGo!
(バブルGoGoGo! Baburu GoGoGo!)
January 8, 2005
15
Icy Invention... de koff!?
(氷の発明...でコフ!? Kōri no Hatsumei... de kofu!?)
January 15, 2005
16
Terrifying Gravity Diet!
(恐怖の重力ダイエット! Kyōfu no Jūryōku Daietto!)
January 22, 2005
17
Dark Chip Again
(ダークチップ再び Dāku Chippu Futatabi)
January 29, 2005
18
Sword and Samurai
(剣とサムライ Ken to Samurai)
February 5, 2005
19
The Explosion that Carries Happiness
(幸せを運ぶ爆発 Shiawase wo Hakobu Bakuhatsu)
February 12, 2005
20
Stormy Vacation
(嵐のバカンス Arashi no Bakansu)
February 19, 2005
21
Doctor Wily's Daughter
(ドクターワイリーの娘 Dokutā Wairī no Musume)
February 26, 2005
22
Dekao, Curry Transformation
(デカオ,カレーなる転身 Dekao, Karēnaru Henshin)
March 5, 2005
23
Nihao! Net Hermit
(ニーハオ! ネット仙人 Nīhao! Netto Sennin)
March 12, 2005
24
Narcy's Retirement
(ナルシー脱退 Narushī Dattai)
March 19, 2005
25
Shuddering Birthday Present
(戦慄のバースディプレゼント Senritsu no Bāsudē Purezento)
March 26, 2005
26
Icy Asteroid Castle
(氷のアステロイド城 Kōri no Asuteroido Jō)
April 2, 2005
27
Route-san's Close Call!
(ルートさん危機一髪! Rūto-san Kiki Ippatsu!)
April 9, 2005
28
Pink Punch Meiru
(ピンクパンチメイル Pinku Panchi Meiru)
April 16, 2005
29
The Safecracking Man
(金庫破りの男 Kinkoyaburi no Otoko)
April 23, 2005
30
Tesla: A Complex Maiden's Heart
(テスラ·複雑な乙女心 Tesura Fukuzatsu na Otomegokoro)
April 30, 2005
31
Shademan Strikes Back
(シェードマン逆襲 Shēdoman Gyakushū)
May 7, 2005
32
Space-Time War
(時空戦争 Jikū Sensō)
May 14, 2005
33
Oath of the Tomahawk
(トマホークの誓い Tomahōku no Chikai)
May 21, 2005
34
Wish Upon a Star...
(星に願いを... Hoshi ni Negai wo...)
May 28, 2005
35
Queen Fight!
(クィーンファイト! Kwīn Faito!)
June 4, 2005
36
Another Rockman
(もう一人のロックマン Mō Hitori no Rokkuman)
June 11, 2005
37
Offering of Deko Fireworks
(デコにささげる花火 Deko ni Sasageru Hanabi)
June 18, 2005
38
Fortune Telling Shooting Star of Love
(恋の流星占い Koi no Ryūsei Uranai)
June 25, 2005
39
Cross Fusion Impossible!
(クロスフュージョン不能! Kurosu Fyūjon Funō!)
July 2, 2005
40
Neo WWW Annihilation
(ネオWWW壊滅 Neo Wārudo Surī Kaimetsu)
July 9, 2005
41
Top Secret Orders C.F.
(極秘指令C.F. Gokuhi Shirei Shī Efu)
July 16, 2005
42
Under Duo's Comet
(デューオの彗星の下に Dyūo no Hoshi no Shita ni)
July 23, 2005
43
Worker Miyabi
(仕事人ミヤビ Shigotonin Miyabi)
July 30, 2005
44
Summer! The Sea! Training Camp!
(夏だ! 海だ! 合宿だ! Natsu da! Umi da! Gasshūku da!)
August 6, 2005
45
Stellar Memory
(星の記憶 Hoshi no Kioku)
August 13, 2005
46
The Desired Crest
(ねらわれた紋章 Nerawareta Monshō)
August 20, 2005
47
Why Are You Here?
(なんでおまえがここにいる Nande Omae ga Koko ni Iru)
August 27, 2005
48
Countdown to Disappearance
(消滅へのカウントダウン Shōmetsu e no Kauntodaun)
September 3, 2005
49
Battle of One Without Bonds
(きずななき者の戦い Kizuna Nakimono no Tatakai)
September 10, 2005
50
Colonel Barrel
(バレル大佐 Bareru Taisa)
September 17, 2005
51
Toward a New Future
(新たなる未来へ Aratanaru Mirai e)
September 24, 2005
Music
"Doobee Doowop Communication, トゥビドゥワ コミュニケーション": by babamania. (episodes 1-22/25)
"Hikari Todoku Basho - Yuujou no Shirushi, 光とどく場所 ~友情のしるし~": by Netto Hikari and Rockman (Kumiko Higa and Akiko Kimura). (episodes 26-51)
Shuhei Naruse takes the role of Music Composition from Jun'ichi "IGAO" Igarashi. However, many of Axess' tracks continued to be used throughout the series.
DVD releases
Film Book
Rockman.EXE Stream Official Film Book (ロックマン エグゼ ストリーム オフィシャルフィルムブック, Rokkuman Eguze Sutorīmu Ofisharu Firumu Bukku) is a film comic from the anime released in seven volumes between February–September 2005.
Title
Release date
ISBN
Rockman.EXE Stream Official Film Book Vol. 1
(ロックマンエグゼ ストリーム オフィシャルフィルムブック Vol.1)
February 28, 2005
4-906582-52-4
Rockman.EXE Stream Official Film Book Vol. 2
(ロックマンエグゼ ストリーム オフィシャルフィルムブック Vol.2)
March 24, 2005
4-906582-53-2
Rockman.EXE Stream Official Film Book Vol. 3
(ロックマンエグゼ ストリーム オフィシャルフィルムブック Vol.3)
May 20, 2005
4-906582-70-2
Rockman.EXE Stream Official Film Book Vol. 4
(ロックマンエグゼ ストリーム オフィシャルフィルムブック Vol.4)
June 22, 2005
4-906582-77-X
Rockman.EXE Stream Official Film Book Vol. 5
(ロックマンエグゼ ストリーム オフィシャルフィルムブック Vol.5)
July 27, 2005
4-906582-85-0
Rockman.EXE Stream Official Film Book Vol. 6
(ロックマンエグゼ ストリーム オフィシャルフィルムブック Vol.6)
August 23, 2005
4-906582-91-5
Rockman.EXE Stream Official Film Book Vol. 7
(ロックマンエグゼ ストリーム オフィシャルフィルムブック Vol.7)
September 22, 2005
4-906582-96-6
Gallery
See also
External links