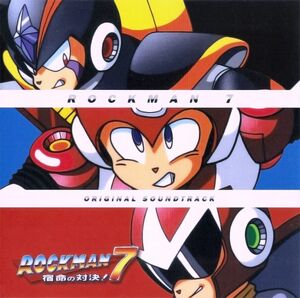 Rockman 7 Original Soundtrack (ロックマン7 オリジナルサウンドトラック, Rockman 7 Original Soundtrack) is the soundtrack album from the game Mega Man 7. It was released by TEAM Entertainment in November 21, 2007 in Japan.
Track list
Title
Opening Demo 1
Opening Demo 2
Stage Select
Wily Stage Map
Wily Stage 1
Wily Stage 2
Wily Stage 3
Wily Stage 4
Boss Introduction
8 Big Boss
Wily Stage Boss
Wily Final Form
Theme of Forte
Message (Joyful)
Message (Sad)
Continue & Password
Get Weapon
Stage Clear
All Stages Clear
Ending & Staff Roll
Helmet
Alarm
Shademan Stage (Alternative)
Notes
The following recording errors are present on this release

Tracks 2, 3, 25 and 26 leave in all the sound effects heard during these sequences
Track 4 loops back to the start prematurely, leaving the final section of the track completely unheard
Track 6 contains a sound effect towards the start
Track 17 cuts out a quarter of both the lead-in and the intro sections
Track 22 leaves in the "thud" sound effect from the bosses in Wily Stages 1 and 2
Track 23 leaves in the "ching" and "life bar fill" sound effects heard in-game
Track 24 leaves in the "teleporting in" sound effect

All of these errors are addressed in re-recorded versions made for the Rockcan Sound E Can released five years later, in addition to sporting track names in-line with the series' other entries
External links
Community content is available under
CC-BY-SA
unless otherwise noted.