---
PLEASE NOTE:

THE FOLLOWING INFORMATION IS ABOUT MATERIAL THAT WAS NOT LOCALIZED OR DUBBED OUTSIDE OF JAPAN OR OTHER COUNTRY, AND USES THE ORIGINAL TERMS AND NAMES.
---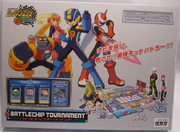 Rockman EXE Axess - Battle Chip Tournament (ロックマンエグゼ アクセス バトルチップトーナメント, Rokkuman Eguze Akusesu Batoru Chippu Tōnamento) is a 2-4 players board game released by Takara in Japan.
Contents
Game board x1
NetNavi chips x4
Virus piece x1
HP Counters x4
Max HP chips x36
Dice x1
Paper Battle Chips x20
Advanced PET Battle Chips x3 (Long Blade, Recovery 80 and Heavy Gauge)
Item Cards x30
Event Cards x10
Virus Cards x20
Tournament chart x1
HP Counter covers x4
Sticker set x1 (for dice and NetNavi chips)
How to play instructions x1
Gameplay
Board
Homepage - Starting point.
Virus Card - Draw a Virus Card and defeat the virus.
NumberMan - Draw Item Card.
Chip Trader - ?
Bonus Square - ?
?
Battle - ?
Event Card - Draw Event Card.
NetBattle & Final Battle Stage - A battle arena in the center of the board used for NetBattles.