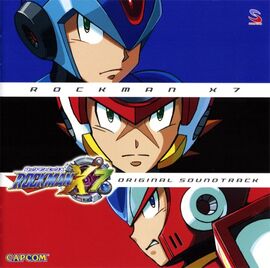 Rockman X7 Original Soundtrack (ロックマンX7 オリジナルサウンドトラック, Rockman X7 Original Soundtrack) is the soundtrack album from the game Mega Man X7. It was published by Suleputer in October 2003.
Track Listing
Title Call
Conflict - Escape Stage
Awake Road Again - Highway Stage
Burning Water - Kombinat Stage (Flame Hyenard)
Underground - Tunnel Base Stage (Vanishing Gungaroo)
Mod Electric Wave - Radio Tower Stage (Tornado Tonion)
Naval Battle - Battleship Stage (Splash Warfly)
Ruins'n Vains - Deep Forest Stage (Soldier Stonekong)
Higher the Air - Air Force Stage (Wind Crowrang)
Cyber Geometry - Cyber Field Stage (Snipe Anteator)
Bomb Recovery - Central Circuit Stage (Ride Boarski)
Just Before Red - Palace Road Stage
Infiltration - Crimson Palace Stage 1
Soul Asylum - Crimson Palace Stage 2
Combination - vs Mega Scorpio
Decisive Battle - vs Boss
Relation - vs Red
Our Blood Boils - vs Sigma 1st
Conclusion - vs Sigma Final
Stage Select 1
Stage Start
Stage Clear
Result
Option
Stage Select 2
Provocation
Theme of Signas
Beginning - Theme of Red
Revealing
Suffering
Black Plotting
Fate - Theme of Sigma
Theme of Alia
Theme of X
Tragedy
Thorny Path
Night Mare - Ending of Zero
A Naughty Boy - Theme of Axel
Opening
Ending
Lazy Mind
X SE
Axel SE
Zero SE
Sigma SE
(Bonus Track) No Holdin' Back - Demo of Megaman X7
Booklet
The Rockman X7 Soundtrack Booklet contains not only the soundtrack list, but also a small prologue for the game, titled Ōgon no Hibi, which introduces Axl as well as Red.
Gallery