Rockman X 25th Anniversary Memorial Carddass Edition (ロックマンX 25周年記念 メモリアルカードダスエディション, Rockman X 25th Anniversary Memorial Carddass Edition) is a pack released in November 2018 by Bandai to celebrate the 25th anniversary of the Mega Man X series and the 30th anniversary of Carddass. It was sold exclusively through Premium Bandai. The box contains 24 cards, a clear binder, and a 12 page booklet containing a 10 page manga titled Rockman X5 IF.
Cards
Rockman X5 IF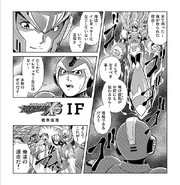 Rockman X5 IF is a short manga by Iwamoto Yoshihiro based on Mega Man X5. The story starts with X going to fight Awakened Zero in the Zero Space. Both are heavily damaged in the battle, but Zero returns to normal and uses his own parts to repair X. X then proceeds to fight against Sigma with Zero's right arm and helmet, and defeats Sigma. In the end, X retrieves Zero's body to repair him and remembers the comrades they made during their battles, including Sigma before he became a Maverick.
See also
External links
Community content is available under
CC-BY-SA
unless otherwise noted.