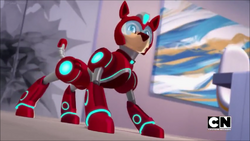 Rush is a character from Mega Man: Fully Charged. He is the robot dog of the Light family.
Appearance
At first, Rush resembled a real dog more than his original counterpart, having brown skin/"fur" and mechanical details in metallic red.
After being injured by Lord Obsidian in Lightfall Part II, Rush has been upgraded to be able to transform into a battle mode which closely resembles his game counterpart but with blue highlights and a blue visor.
Personality
Rush is normally playful and joyful, but occasionally his mood gets dampened, usually by Aki and Suna's ongoing fight over him.
He is a smart dog capable of understanding his owners to some extent.
Abilities
Normal form
Rush can extend his tail, being able to use it as a cable.
Armored form
Flight: Rush's limbs can transform into rotors, allowing him to fly and act as a transport for Mega Man. This works similar to the Rush Jet from his original counterpart.
Lasers: Rush has to ability to shoot lasers out of his eyes.
Immunity to hypnotic projectiles: Rush is completely immune to the hypnotic effect of the projectiles of Hypno Woman.
Storage: Rush has a chip compartment in the front of his neck with can store a chip, first seen in the episode A Bot and His Dog, where Suna used it to Rush deliver the chip with Hypno Woman's schematics to Mega Man. It was first mentioned by Aki in Rush to Greatness.
Gallery
Trivia
In Power Cycle, he eats normal food, instead of the gears for Aki's mistake.
In an early concept, he was shown in a Motorcycle mode. It is currently unknown whether this will be featured in the series, or if it was replaced with his Flying form.