---
PLEASE NOTE:

THE FOLLOWING INFORMATION IS ABOUT MATERIAL THAT WAS NOT LOCALIZED OR DUBBED OUTSIDE OF JAPAN OR OTHER COUNTRY, AND USES THE ORIGINAL TERMS AND NAMES.
---
Shademan Strikes Back is the thirty-first episode of Rockman.EXE Stream.
Plot
TBA
Summary
TBA
Errors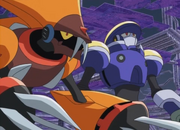 FlashMan's eyes are drawn so that his sclera completely "fills" the eye holes in his head in the scene where him and BeastMan confront ShadeMan. Normally there is darkness around his eyes to indicate that they are inside of his head as if he were wearing a helmet.
Trivia
TBA