Fire Emblem Warriors: Three Hopes - The Loop
Play Sound
The shady salesman, also known as "strange old man" (変な親父, henna oyaji) and shopkeeper (店主, tenshu), is a recurring character in the MegaMan NT Warrior anime series. As his name implies, he is a devious salesman who often sells poor quality or shady products to unsuspecting customers. He seems to own multiple businesses, or moves to different locations to avoid being caught.
History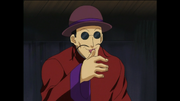 When Lan is late to get space meat buns with Dex, Maylu, Yai, and Tory at Ku-Chinatown and the restaurant sells out, the shady salesman invites the group to eat at his restaurant. They comment on how awful the ramen is while as the salesman constantly refills their bowls and tells them to eat as much as they'd like. Lan's friends comment on the bland taste that has hints of curry. CutMan Brothers!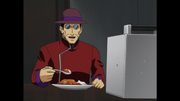 Later in Axess, he appears to have moved to Jyawaii where he owns a small shady pawn shop and has built up a three month tab from #2 Curry. Dex delivers some food to him where he vaguely recognizes the salesman making him nervous. He shows off the "Net Wrecker", a device that the salesman claims to be a "four thousand year old mystery box from Ku-China" (which he claims moments later to be five thousand years old), and Dex takes it instead of collecting the salesman's tab. Later when GutsMan goes on a rampage after Dex over uses the Net Wrecker, Lan, Dex, Ms. Mari, and Rush confront him where Lan recognizes him and they demand to know how to change GutsMan back. He explains that his grandfather got it from a poor student for some ramen, which Lan recognizes as his grandfather. The Incredible Guts!
---
PLEASE NOTE:

THE FOLLOWING INFORMATION IS ABOUT MATERIAL THAT WAS NOT LOCALIZED OR DUBBED OUTSIDE OF JAPAN OR OTHER COUNTRY, AND USES THE ORIGINAL TERMS AND NAMES.
---
In Beast+, the shady salesman appears to own a shop in Densan City. When Madoi finds BubbleMan's Miniroid in the basket she bought, she tosses it away and the salesman picks it up and puts it on display. At the end of the episode after Meiru kicks BubbleMan away, the shady salesman finds him and puts him on display next to the Miniroid. I Want Limited Goods Puku
---

END OF UNLOCALIZED MATERIAL.
---
List of appearances
NT Warrior
Axess
Beast+
Products
Worst ramen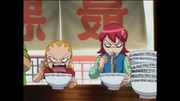 The shady salesman owned a ramen stand in Ku-Chinatown where he claimed to have the "best food", but it was actually the "Worst Noodles" (最悪麺, "Worst Noodles" the name of his stand) with a "weird taste you rarely taste". Maylu, Yai, Dex, and Tory state that the noodles are awful and that there was not enough salt and that it tastes of curry.

Net Wrecker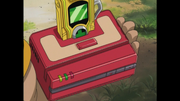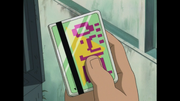 The Net Wrecker is a strange device resembling a video game system that remodels a NetNavi's data made by Tadashi Hikari in his youth that he traded away to the shady salesman's grandfather for some ramen. Dex is given the device in exchange for clearing the shady saleman's three month tab at #2 Curry. He was scolded for this and threw the device away, but upon finding it to be oddly compatible with his Advanced PET (technology invented well after the Net Wrecker was) and a card to slide through it, Dex uses it and made GutsMan to grow to an enormous size. Yahoot suggests using this to defeat Lan and MegaMan, however Dex uses the Net Wrecker too much and the device overloads and explodes, making GutsMan gargantuan and go on a rampage. It is presumably thrown away again after this.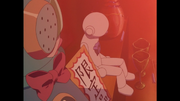 The shady salesman finds the Miniroid after Maddy throws it away, and puts it on display in his store.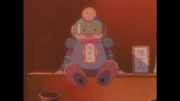 Later, he finds BubbleMan in his Miniroid after Maylu kicks him away and puts him display as well.
Assorted items
In the two stores the shady salesman has, he has an assortment of odd items for sale.
Gallery