Shooting Star Rockman 3 Ultimate Guide - Battle Black Box (流星のロックマン3 究極ガイド バトルブラックボックス)
is a strategy guide book for the game Mega Man Star Force 3. It was released on March 30, 2009, costing at 840 yen with 72 pages.
Contents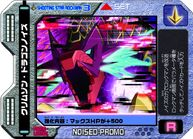 The book contains hints and customization recipes for Noise Gears and Battle Card sets. For the first few pages, it introduces the hidden (secret) bosses.
The book also comes with a Bonus Card: the Crimson Dragon .