---
PLEASE NOTE:

THE FOLLOWING INFORMATION IS ABOUT MATERIAL THAT WAS NOT LOCALIZED OR DUBBED OUTSIDE OF JAPAN OR OTHER COUNTRY, AND USES THE ORIGINAL TERMS AND NAMES.
---
Takeo Inukai (犬飼 猛雄, Inukai Takeo) is an antagonist in Rockman.EXE Stream. A disgraced zookeeper, Inukai is the savage and ruthless man who comes to operate the Asteroid BeastMan and subsequently join the Neo WWW.
Overview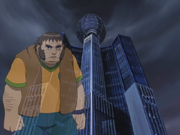 Much like his video game counterpart, Inukai in the anime is a member of an iteration of the WWW. However, rather than being led by Lord Wily to retrieve a Tetra Code to awaken Proto, Inukai joins the Neo WWW under Tesla Magnets where he and his Asteroid BeastMan cause havoc on society. Also, he has a lion named Umanosuke (馬之介[1], Umanosuke).
History
Inukai was an animal trainer in a safari funded by the IPC. During an advertisement filming, he was fired due to his harsh treatment to the animals. Later, Slur gives him BeastMan to test humanity because of his attitude. Inukai releases all the animals on the city and controls them via a IC chip. He corners Netto and Enzan, but they keep the animals away by staying close to a fire. Inukai then summons BeastMan to attack using the Dimensional Chip to materialize him. But, Dr. Hikari activates the Dimensional Generator, allowing Netto and Enzan to use Cross Fusion. BeastMan is defeated, yet Inukai escapes with the help of his lion, Umanosuke, who would still listen to him. Threat of the Asteroid
List of appearances
Rockman.EXE Stream
See also
References