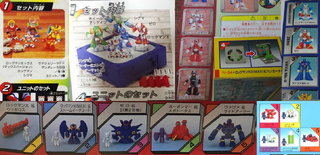 "Max" was often used in X1-X3 armors from Bandai toys, just like "Full Armor". --Quick (u•t) 19:34, July 31, 2019 (UTC)
I asked Protodude and he gave confirmation that "Max Armor" is indeed Capcom's official name for the armor.
https://twitter.com/Protodude/status/1156942024395939841
DragonFaku (talk) 17:33, August 1, 2019 (UTC)
You could say that, but Capcom is the one that gives the final saying. Same thing happened with iX, they pretty much went with the fan naming and adopted it as the official English name. Besides, Bandai wasn't the only company that used the naming "Max Armor" with their merch. DragonFaku (talk) 23:02, August 1, 2019 (UTC)
While I'd be all for it just being called the Max Armor, Quick's image throws a wrench in things. Firstly, a good reason I think people assume the Third Armor is called the Max Armor is because the Third Armor has had far more products made for it than the first two, sadly enough.
If indeed they made merchandise like figures and models for the first two armors, maybe we would have gotten an official name for them, or they too would have been called "Max Armor", because the armor is complete (as seen in the image above). Take the Mega Armor models and Kotobukiya for example. The Third Armor is called the "Max Armor", but there are no models and kits for the X1 and X2 armors. So if they did make models, would they too be called Max Armor? If we go on Bandai and Kotobukiya's word, then according to Marvel vs. Capcom Infinite and Super Smash Bros. the official names of the First Armor are Armor of Light and Full Armor.
Third party sources are the second choice in names. Action figures and be mislabeled, misnamed, whatever. Bandai and Kotobukiya make action figures for. Capcom, yes, but they are still NOT Capcom. TornadoMan.EXE (talk) 07:38, August 2, 2019 (UTC)
Community content is available under
CC-BY-SA
unless otherwise noted.