Arcane: League of Legends - The Loop
Play Sound
---
PLEASE NOTE:

THE FOLLOWING INFORMATION IS ABOUT MATERIAL THAT WAS NOT LOCALIZED OR DUBBED OUTSIDE OF JAPAN OR OTHER COUNTRY, AND USES THE ORIGINAL TERMS AND NAMES.
---
The Explosion that Carries Happiness is the nineteenth episode of Rockman.EXE Stream. it originally aired in Japan on February 12, 2005. It features the debut of Nenji Rokushakudama and Asteroid NapalmMan.EXE.
Plot
Criminal bomb expert Domon Atsuki runs from the police when his PET is smashed by a semi-truck. His Asteroid, NapalmMan, is left to fend for himself when he finds his way into the PET of pyrotechnician Nenji Rokushakudama. When Nenji shows him kindness and his mutual love of explosions and fireworks, NapalmMan begins to reconsider his life of crime and destruction as Netto Hikari hunts him.
Summary
TBA
Characters
In order of appearance:
Viruses
Battle Chips
TBA
DVD release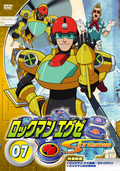 This episode was released on home media in the seventh DVD volume of the season.

Gallery
TBA
Trivia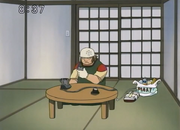 When Nenji picks up his Advanced PET to create a new Navi for himself, another PET appears in the charger in its place, creating a second PET.