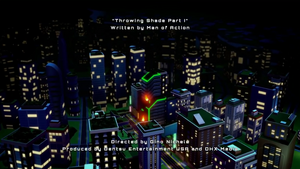 Throwing Shade Part I is the first episode of Mega Man: Fully Charged. It first aired in the United States on Cartoon Network on August 05, 2018. Two days earlier it was released within the Cartoon Network app.
Summary
At night, a building in Silicon City is on fire, and a human is stuck inside. A blue robot appears and saves the human, the new hero introducing himself as Mega Man. The next day, Aki Light and Suna Light talk about Mega Man's heroic deeds and wonder if they should reveal that Aki is Mega Man to their father, Dr. Light, deciding to keep it a secret for a while.
Later, Dr. Light goes to a school assembly, and Sgt. Night publicly criticizes Dr. Light's views on human and robot unity, invoking the ire of Fire Man and forcing Mega Man to intervene. As Fire Man is too strong for him, Mega Man copies his abilities to get more fire power, but is thrown far away before he has a chance to try his new powers.
Major Events
Fire Man makes his first appearence.
Aki Light/Mega Man replicates Fire Man's powers.
Appearances
Video
Trivia
The pixelated scene of the building in the beginning of the episode is a reference to the opening scene from Mega Man 2.
During the pixelated scene showing Fire Man's past as a welding robot, it can be heard a modified music theme of Fire Man's stage from the first Mega Man game.
Community content is available under
CC-BY-SA
unless otherwise noted.