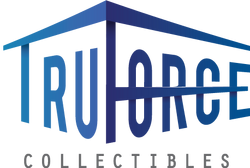 TruForce Collectibles is an action figure company created in 2014 which started a Kickstarter campaign for the release of the Mega Man X "Designer Series" figures. The Kickstarter campaign ended on March 2nd, 2015 with $290,656 and 1,959 backers.[1]
Designer Series
The Designer Series is a line of figures released in 2015 based on the design of Mega Man X made by artist Keisuke Mizuno for an April Fools' Day joke posted by Rockman Unity in 2014.[2]
X - Released in September 2015.

X (Color Variant) - Also known as the "Test-Color X" version. Promotional version of the original figure that was featured as a Kickstarter backer exclusive. Featured blue and red effects.
X (X-Boost) - Promotional version released only in San Diego Comic Con 2016.[3]
Gallery
Trivia
The X-Kai figure contains a fictional backstory which states that it was originally a prototype developed by Dr. Wily using the stolen blueprints for the DRN-001 Mega Man that was later discarded in favor of the DWN-∞. During the formation of the X-Hunters, this lost prototype would be discovered by an unknown party and completed. The unit was named "X-kai-" after the Maverick Hunter X, owing mostly to his superior specs and nearly-identical design (though this is not explicitly stated). X-Kai would then become the designated leader of the X-Hunters.[5]

It is worth noting that the concept behind X-Kai was that in the Mega Man X Official Complete Works, the X-Hunters were originally four members, but the fourth character was cut from the game due to ROM capacity. Keisuke Mizumo stated that X-Kai was created because he was "amazed that Capcom didn't make a villain that looked exactly like Mega Man X."

Oddly enough, there was already a Mega Man X lookalike villain, called "X" (pronounced "iX").
References
External Links