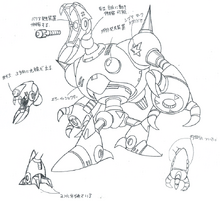 Hey there. I'm an editor on this wiki. I like this series a lot, especially the X and Zero series, so expect me to edit lots of content on this wiki. However, they may be slow, so be patient.
I specialise in calculating in game data form the Zero series, particularly mid-bosses and fortress bosses. Lets not forget the Muto Reploids as well! Also I love the mid-bosses so much, so if there's anything you want me to find out about in this series, let me know.
My favorite characters from the Zero series are Deathtanz Mantisk, Craft, Sol Titanion, Copy X, just about all the Einherjar and Eight Gentle Judges, and X-Kai. I know he's obscure and all, but I just really like him.
Current game/series I'm working on : Mega Man ZX and Mega Man Zero translations
My favorite pages
My Gallery
Stuff I made in my spare time. Most of these are sprites, and I made them into animations. The characters are mostly from this series, or from a game called Azure Striker Gunvolt, a successor to this series. All animations are made by me, characters from Capcom and Inti Creates.
Animations
Mega Man X
Animations I made from the game series Mega Man X. Some of them were made to kill time, but you can use them if you want, I don't mind (to users that don't operate this wiki, this is not the case). You don't have to give credit either, some of them were made for this wiki.
Note: Be patient. These animations take time to build. Also, these galleries will be expanded from time to time, so expect updates.
X1
X2
X3
X4
X5
X6
Mega Man Zero
Z1
Z2
Z3
Z4
Mega Man ZX
ZX
ZX Advent
Azure Striker Gunvolt
Character animations I made from the game series
Azure Striker Gunvolt.
All the sprites (if you want them) can be found here:
https://www.spriters-resource.com/3ds/azurestrikergunvolt/?source=genre
.
Community content is available under
CC-BY-SA
unless otherwise noted.