I'm 23 years old and I've been a fan of Mega Man since as far as I can remember. My first Mega Man game was Mega Man 4 and my favorite Robot Master is Ring Man. My other favorite Mega Man characters are Mega Man, Mega Man X, Proto Man, Bass, Zero, Vile, Bubble Man, Mega Man Trigger, Teisel Bonne, Tron Bonne, Sera and Bola. I am a web, graphic, game and character designer, writer, and Digital Media/Astronomy graduate from UCF. I have an old Robot Master Museum site (Ring Man X's Robot Master Museum) that I made 8 years ago, but I still have lots of data and pictures to contribute. I would like to see all of the Robot Masters and character pages standardized. I also have the Mega Man cartoon series and Captain N: The Game Master DVD boxsets, so I can take any screenshots that may be needed. I know a lot about the classic Mega Man games, Mega Man Legends games, Mega Man X games, and the first Mega Man Battle Network and MegaMan Network Transmission. I stopped playing the MegaMan Battle Network series during MegaMan Battle Network 4 and stopped playing the Mega Man Zero series after the first Mega Man Zero game. Other than those 2 series, I've played almost every Mega Man game.

I've been trying to think of a catchy name for this database and all I could think of is Wilypedia. It makes sense, since Wily is responsible for everything that has happened, even Mega Man.

Characters I dislike are Sigma (I hate this guy. Why won't he just die already!?!?), Dust Man (I hate his hard and depressing stage more.), Botos (An annoying, two-faced jerk.), Axl (His powers are cool, but he can be so annoying.), Glyde (He's creepy, cocky and a jerk.), Colonel Redips (Psycho...), Rafflesian (What did I ever do to her? She must be insane.), MegaMan Juno (He's creepy and stuck-up), and Plant Man (I don't really know why, but I just don't trust his smug look on his face).


I am one of the Bureaucrats and Sysops here on the Mega Man Wiki along with Bassium!, Brick Man, Bauer-CTU and Quick. I have contributed a lot to the Robot Masters, Enemies, Mavericks, Mega Man Legends series and Mega Man cartoon series. Feel free to message me with any suggestions or problems that arise.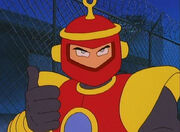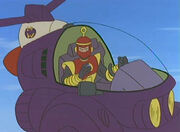 Basic Rules
Avoid using words such as "you," "me" and "I." Instead of the word "you," the name Mega Man can be used or the words the player.
Keep personal opinions and comments out of articles. Post these on the appropriate discussion pages.
Check your grammar! Also, there is a space between a word and an open parenthesis. Example: Proto Man (Blues) and not Proto Man(Blues).
Please categorize articles and images.
Sprite rules: Please crop sprites so that there is no extra space around the sprite edges. Also, sprites should be saved as PNGs. Saving pixel art as JPGs is horrible in that it degrades the quality and will actually take up more memory space. GIFs are usually fine unless the original color palette is altered in GIF format.
Do not overwrite an image with a totally different image, especially if it is in use on many pages.
No duplicate images! Please check if the image already exists before uploading it. (This is why it is important to categorize everything.)
If you frequently edit this Wiki, PLEASE sign up and create an account. Help out this wiki in Operation Overhaul by joining. Joining makes it much easier to communicate with other members and to contribute files.
Check out the MMKB:Standards and MMKB:FAQ pages for more information.
My Fan Characters
I have listed most on the Fan Characters page.
RingMan X
PharaohMan X
Mega Man Forte/Bass Trigger
Mega Man Cutter/Cut Man Trigger
Mega Man Muscle/Guts Man Trigger
Mega Man Chiller/Ice Man Trigger
Mega Man Blaster/Bomb Man Trigger
Mega Man Ignite/Fire Man Trigger
Mega Man Lightning/Elec Man Trigger
Mistress Krisna
Kurtz
Ceres
Makemake
Eris
Moondroids

Phobos
Deimos
Amalthea
Thebe
Io
Europa
Ganymede
Callisto
Epimetheus
Janus
Mimas
Enceladus
Tethys
Dione
Rhea
Titan
Hyperion
Iapetus
Puck
Miranda
Ariel
Umbriel
Titania
Oberon
Larissa
Proteus
Triton
Nereid
Charon
Nix
Hydra
Dysnomia

Model A (Axl)
Model J (MegaMan Juno)
Model T (Mega Man Trigger)
Model Q (Quint)
Model S (Sigma)
Model R (RX Armor)
Model E (EX Armor)
Translastion/Official Name Progress
I always put the published English names from printed sources over any Japanese name found on the internet. The English names may sound silly or blunt, but they come from official and more reliable sources. The only source that is more reliable than the instruction manual would be the actual in-game text. As for game ranking the games, it is hard to distinguish which version of a name is better suited. It is a toss-up between the game which it made its first appearance or the game that is most recent in the series. Any name variation that is not the original or most recent would be less reliable than these.

Sprites will not be provided until the correct name is found.
Enemy/Boss names left:

Awards
My Award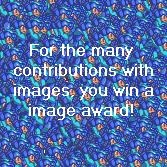 = AWESOME!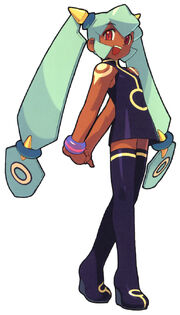 Favorite Soundtracks
My favorite Mega Man game soundtracks
Mega Man 2 NES soundtrack (Bubble Man, Wood Man, Air Man, Flash Man, Metal Man, first Dr. Wily stages and game opening.)
Mega Man 4 NES soundtrack (Ring Man, Pharaoh Man, Bright Man, Skull Man, boss battle, all Dr. Cossack stages, all Dr. Wily stages and final boss battle.)
Mega Man X Super NES soundtrack (Storm Eagle, Spark Mandrill, Launch Octopus, intro stage and first Sigma stage.)
Mega Man Legends 2 PlayStation soundtrack (Manda Ruins, Nino Ruins, Race Game, all Calinca songs, all Elysium songs and Geetz battle.)
Mega Man and Bass Super NES soundtrack (Cold Man, Ground Man, Dynamo Man and intro stage.)
Mega Man Legends PlayStation soundtrack (Main Gate, Clozer Woods Sub-Gate, Fokkerwolf, Bruno, the Flutter vs. the Gesellschaft and the Apple Market.)
Mega Man X: Command Mission GCN soundtrack (Central Tower and all battle music including X's and Marino's themes)
Mega Man X7 PS2 soundtrack (Tornado Tonion, Snipe Anteator, Vanishing Gungaroo and Soldier Stonekong)
Mega Man 3 NES soundtrack (stage select and selected stage, Needle Man, Spark Man, Top Man, fortress battle, second Dr. Wily stage and ending theme)
Mega Man X3 Super NES soundtrack (Blast Hornet, Gravity Beetle, Blizzard Buffalo and Crush Crawfish.)
Mega Man ZX Nintendo DS soundtrack (Last Area, Area A, Boss Battle.)
Mega Man Network Transmission GCN soundtrack (StarMan.EXE, SwordMan.EXE, FireMan.EXE, PharaohMan.EXE, ShadowMan.EXE, NeedleMan.EXE, GravityMan.EXE and the Undernet.)
Mega Man 5 NES soundtrack (Crystal Man, Napalm Man, Wave Man, Gravity Man and the Proto Castle.)
Mega Man 6 NES soundtrack (Centaur Man, Knight Man, Tomahawk Man and first Dr. Wily stage.)
Mega Man: The Wily Wars Sega Genesis soundtrack (Mega Water. S and fourth Wily Tower stage.)
Mega Man 9 WiiWare soundtrack (Title screen, Concrete Man, Galaxy Man, Splash Woman and first Dr. Wily stage.)
Mega Man X6 PlayStation soundtrack (Blaze Heatnix, Shield Sheldon and Commander Yammark.)
Mega Man: Powered Up PSP soundtrack
Maverick Hunter X PSP soundtrack
Favorite Special Weapons
My favorite Mega Man weapons
Mega Man 10 concept
I've recently posted my concept for a Mega Man 10. Check it out.


Other Wikis I'm Currently Active with
Community content is available under
CC-BY-SA
unless otherwise noted.