VineMan, known as PlantMan (プラントマン, Purantoman) in Japan, is an antagonist in MegaMan NT Warrior Axess and Rockman.EXE Stream. One of the Darkloids spawned from darkness under ShadeMan, VineMan fights against MegaMan and his friends as he tries to tear down the world to make it a place solely for Darkloids.
Overview
Like most of the other Darkloids in the anime. VineMan.EXE's story is entirely different. In Mega Man Battle Network 3, he was a member of World Three and is the NetNavi of Anetta. However, in the anime continuity, he has no relationship with Antte, nor the World Three. Instead he is a Darkloid who serves under ShadeMan.EXE (Then later Dr. Regal and LaserMan.EXE.) and uses Dark Chips to give him strength.
History
VineMan first appears as a Darkloid that goes around the Net making cyber plants grow out of control, ensnaring those nearby and draining away their data, including the WWW Navis and Roll. Lan and MegaMan are at first unable to stop him, but they are aided by Mr. Match and a newly revived TorchMan, and together they delete VineMan. The CyberGarden of Doom!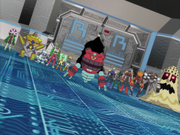 After deletion, VineMan was revived by Dr. Regal along with all of the other deleted Darkloids for the sole purpose of attacking the NetPolice and ensuring the destruction of Control X (which was being used by the NetSavers to help locate Regal's secret space satellite), but once again he is deleted by Wind Soul MegaMan using Wind Racket. The Great NetPolice Battle!

---
PLEASE NOTE:

THE FOLLOWING INFORMATION IS ABOUT MATERIAL THAT WAS NOT LOCALIZED OR DUBBED OUTSIDE OF JAPAN OR OTHER COUNTRY, AND USES THE ORIGINAL TERMS AND NAMES.
---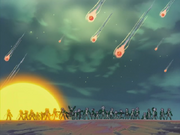 Multiple copies of PlantMan appear as part of the Darkloid army, but they are eventually deleted. Space-Time War

---

END OF UNLOCALIZED MATERIAL.
---
Abilities
VineMan can use Battle Chips without a NetOp.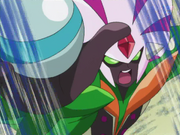 Ice Ball, known as Kori Hougan (コオリホウガン, Koori Hougan) in Japan:
TBA
Attacks
List of appearances
MegaMan NT Warrior Axess
Rockman.EXE Stream
See also