The X-Hunter Stage, known as Counter Hunter Stage (カウンターハンターステージ, Kauntā Hantā Sutēji) in Japan, is a set of stages from Mega Man X2. It is the fortress of the X-Hunters, hidden in the North Pole. After the defeat of the eight bosses, the base is located by Dr. Cain and X invades it to stop the X-Hunters. After their defeat, Sigma destroys the fortress in an attempt to destroy X with it, but X manages to escape and fights against Sigma in the Central Computer Stage.
Stages
X-Hunter Stage 1
Violen's stage. This stage is mostly set with enclosing walls and spikes.
Enemies:
X-Hunter Stage 2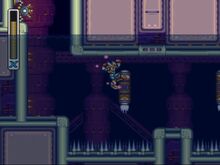 Serges's stage. This stage features an underwater segment and floating platforms.
Enemies:
X-Hunter Stage 3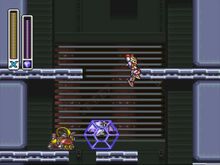 Agile's stage. This stage is significantly longer than the last two and features several gimmicks such as long spike pits and platforms that must be navigated through vertical shafts. The Shoryuken can be found in this stage.
Enemies:
X-Hunter Stage 4
A short stage where X has a rematch against the eight bosses.
Central Computer Stage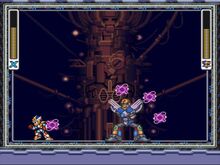 The final stage is in the first half of Magna Centipede's stage. Once the X-Hunter Stage 4 is complete, visiting either the X-Hunter Stages or Magna Centipede's stage will trigger the final battles in the room from the first sub-boss. The Heart Tank and Sub Tank, surprisingly, can actually be gotten here.
Enemies:
Other media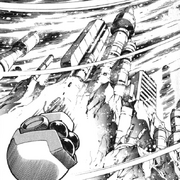 The hideout of the X-Hunters appeared in the Rockman X2 manga.
Community content is available under
CC-BY-SA
unless otherwise noted.